Gone are the days of the most prominent technology in the car being the ability to roll down the windows. These days, cars are jam-packed with the latest in car technology advances.
And it's not just for your entertainment or to enjoy a hands-free conversation on your commutes; driving functions also rely on computers and information systems.
When it comes to these technological advances, we all pay for them. New cars are only getting more expensive. And with recent advancements and added-on technologies, it leads to more repairs. Those repairs can be just as costly. And with so many supply-chain issues, getting the necessary replacement parts to repair those pieces of car technology could take some time.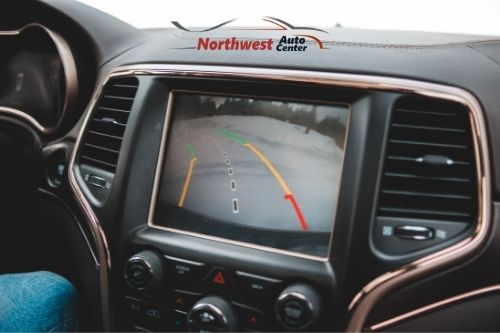 Most Common Car Technology Repairs
When it comes to vehicle technology, there is a trend. A trend of common technology repairs that we see in our shop include:
Backup Camera
Blind Spot Sensors
Lane Assistance
Bluetooth
Navigation
Audio Systems
Performance Sensors
With so many new features, it's important to do what you can to minimize the cost of car technology repairs.
Minimizing the Cost of Tech
Learn About Your Vehicle's Technology
Take the time to learn all the ins and outs of your vehicle, including the technology used. If you're purchasing a new car, talk to the salesman to make sure you fully understand what's used in your vehicle. If you already own your car, break out that owner's manual and do a little research to verify.
Common car technologies you can expect in your vehicle include:
Backup Cameras
Lane Assistance
Automatic Headlights
Performance Sensors
Heated Seats
Bluetooth & Audio Systems
Navigation Systems
This is also a great time to make a list of add-ons you like. In Texas, heated seats may not be high on your car wish list. Or perhaps you find lane assistance to be annoying. Taking stock of the car technology you want helps you avoid paying for unneeded items (both at the start and for repairs later on).
Prioritize Needed Repairs
When something goes wrong with your vehicle's technology, you can expect a higher bill. Especially now, with technology supply chain issues and chip shortages, replacing the tech in your car isn't always an easy process.
It's essential to prioritize. Some repairs are immediate, and there are repairs that you may want to put off. For example, sensors and blind-spot technology you may feel, need your immediate attention, while you can hold off on repairing heated seats or audio system issues.
Working with a technician you trust can help you prioritize needed car technology repairs, helping you stay on the road without breaking the bank.
Start Saving Today
Part of owning a vehicle is preparing for car repairs. While some repairs are avoidable, your car requires maintenance services and wear-and-tear repairs throughout its life.
With that knowledge, the time to start preparing is now. Start saving now instead of scrambling to afford the cost of technology repairs. Put away $10, $20, $50, or whatever you can weekly into an emergency fund. That way, if something unexpected happens, you have the money to stay on the road and possibly avoid some of the stress of repair bills.
Car Repairs in Houston, TX
Car repairs are never fun, and when they come with a heftier price tag, like technology repairs, they can put you in a tough spot.
Get the repairs you need to stay on the road! Call Northwest Auto Center of Houston to schedule a repair or maintenance appointment at (281) 894-8880. We've been serving the Houston area for 32 years!