Car repairs do not come cheap. You want to know the mechanic performing them does right by your vehicle—and you. But, what makes a car mechanic trustworthy? How do you find a good auto shop?
Qualities of a Trustworthy Car Mechanic and Auto Shop
While they may not have an easy-to-spot outward appearance, trustworthy car mechanics have some common traits and attributes.
Listening and Communication Skills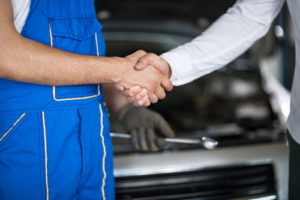 Worthwhile mechanics and auto shops take the time to listen to their customers. Not only is it considerate, but it may also help them when diagnosing problems down the road.
When it comes to repairs, they can easily communicate their intended plans of action. They can walk you through complex repairs in a way that is easily understood—they include you in the process. Mechanics that are transparent instill trust, versus a behind-closed-doors style that leaves customers wondering what is happening to their vehicles.
Consideration for Budget
No one looks forward to spending their hard-earned dollars on their vehicle. A thoughtful car mechanic should keep this in mind when suggesting maintenance timelines.
As the customer, we may be under the impression that specific mileage marks correlate with particular repairs. Car mechanics can see the wear on the item and determine if it needs replacing immediately. Additionally, they will ahead to let you know of costly maintenance items coming up in the future.
The bottom line: great car mechanics respect your wallet.
Work Guarantees
Before starting work, you should ask for an outline of work, and it's intended result.
Mechanics, while they can't guarantee a method, should ensure the result. Can't tell? Ask questions like, "if this repair does not work, will I be charged" to find the mechanics that will stand behind their promises.
Diagnostic Abilities
While impossible to definitively diagnose problems until opening the hood, quick-minded car mechanics can formulate possible ideas after listening to customer complaints. Skills not taught in school, these are learned from experience.
Experienced auto shops have seen it all and can recall past work to help diagnose your vehicle's problems. While not specific, they should be able to ballpark possible culprits and causes.
Continuing Education
Certifications and continuing education are not requirements for car mechanics and auto shops. But, that doesn't mean you shouldn't require them.
Mechanic who take pride in their shop and work continually make the effort to learn new tricks and tools of the trade. With the auto industry producing innovations constantly, mechanics and auto shops needs to stay current.
The next time you are at the shop, ask around to see if any mechanics electively take courses.
How to Find a Good Auto Shop
You know the signs, but how do you find a good car mechanic and trustworthy auto shop?
Reviews
Word of mouth isn't dead; it's just moved platforms. Turn to review sites like Google, Yelp! and Facebook to see what past customers are saying. Keep an eye for mentions for make and models similar to yours as well as repairs that match your vehicle's needs.
Most auto shops have accumulated a few poor reviews throughout their tenure. Don't let them deter you. Instead, see if the company has responded. Are they interested in what their customers are saying? Are they responsive or defensive?
Get started! See what past customers are saying about Northwest Auto Center of Houston.
Better Business Bureau
The opposite of reviews, less (and none) is ideal when it comes to Better Business Bureau listings. Auto shops are ranked #12 for overall company categories—and for a good reason. Scamming and poor performance is too easy. Make sure you do not fall victim by taking the time to look up perspective auto shops on bbb.org.
Test Them
If you have a large ticket repair needed, don't lead with that. Instead, schedule a small, routine maintenance like an oil change or an inspection. With an inspection, you can gauge how trigger happy a mechanic is. Did they suggest the same repairs? Did they see something different? Are the suggesting maintenance items you have already taken care of?
Post-visit, reflect on your experience. During small maintenance, did you still feel valued? Were the mechanics and shop transparent? Did their estimates match the final cost?
Finding a trustworthy, dependable car mechanic and auto shop can be tricky. Knowing what qualities to look for and where to look for them is the first step. Remember, it's all about your comfort level. If you trust them and feel good about taking your vehicle in, that is what matters.