Breaking in new shoes, breaking in a new kitchen, breaking in the new kid — we've all heard of those sayings. But, what about breaking in a new car?
When you drive off the lot, you may think that your car is in its prime; it's at a time of peak performance. But, that's not the case. Driving it like you stole it, not the best move.
If you want to keep your new car acting like new, there are few things you'll want to do (and a few you'll want to avoid). Luckily, we have some advice to help you keep your new car on the road longer…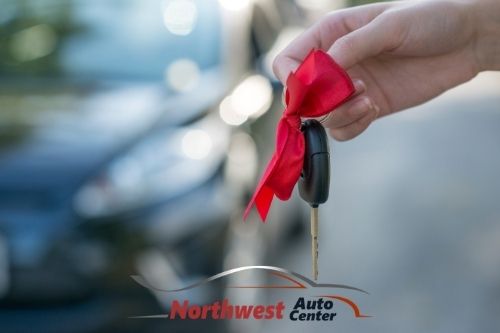 Breaking In a New Car the Right Way
While it may be tempting to peel out of the lot and go for a joy ride, it's not the right move. Not only does that type of driving fall into the "only if you're a professional" category, but your brand new car also isn't going to love you for it.
So, what should you be doing for those first 1,000 miles?
Avoid Sudden, Fast Accelerations
While it won't destroy your car, your new baby needs a bit of a warmup. Quick acceleration puts an excessive amount of strain on your engine — the pistons, cylinders, and oils, you name it.
This isn't as bad for vehicles that have been put through their paces, moving lubrication throughout the engines and warmed up, but for a fresh, cold car, it's best to avoid stomping the gas pedal.
Avoid Slamming On the Brakes
On the flip side, avoid sudden stopping. New brake pads do have a break-in period (of around 300 – 500 miles) to wear in and seat against the various brake parts correctly. While they will work and do their job immediately, hard braking can cause them to wear prematurely or warp.
While it's impossible to predict what other drivers will do and where the traffic will be, set yourself up for success and give other drivers space while breaking in a new car.
Avoid Towing
Even though it's Summer time, if you just bought a new truck, wait a few weeks before towing your RV or helping your buddy move.
The added weight puts a heavier load on the engine and brakes — two things that need a little time to warm up, properly lubricate and settle.
Drive Routes that Have Different Speed Limits
You want to put your new vehicle through its paces; it's part of breaking in a new car. Especially if it's a manual, make sure you travel at different speeds in the first 1,000 miles, letting the engine work through the different gears.
Just make sure to keep those RPMs down for a bit.
No Short Drives
When your engine starts and ends cold, it puts added strain on the engine, especially in the oil delivery department. If you only need to run to the store, plan on doing a quick loop or two around the block, so your engine warms up before parking.
Houston Auto Care and Auto Repair
The best way to avoid future repairs is through preventative maintenance. And when it comes to breaking in a new car, that means breaking it in slowly and softly. Each car is different (check your owner's manual), but treating your new vehicle with extra care for the first 1,000 miles is recommended.
Need to schedule a repair or maintenance appointment in the Houston Area? Contact Northwest Auto Center today at (281) 894-8880. We've been serving the Houston area for 32 years! We're always happy to help in any way we can!