For many drivers, it's nearly inevitable that you'll be involved in some type of car accident during your time behind the wheel. Fortunately, this can be as minor as a fender bender but there are steps drivers should take after an accident in order to protect themselves, their passengers, and their car. Knowledge is powerful and knowing what to do after a car accident can make things go just a little smoother.
Once you've taken care of your physical safety, you'll want to begin the insurance process as quickly as possible. They'll be able to suggest the next steps to you, which often involve taking your car in for repairs.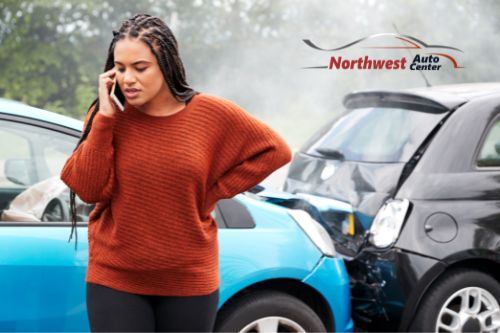 Steps for What to Do After a Car Accident
1. Check For Any Injuries
It's common for drivers who have been involved in an accident to feel stressed and anxious and to perhaps suffer from shock. The most important thing is to ensure your wellbeing and to seek immediate medical attention if injuries are present.
2. Document the Scene
It's important to document the scene of the accident through photos and written statements concerning what occurred before, during, and after the accident. This is when you'll want to collect the other driver's information and provide them with yours as necessary. One more thing you might do is, take a picture of the accident, the other driver's license and a picture of the license plate.
3. Contact Your Insurance Provider
Ideally, you should contact your insurance within 24 hours of the accident so that they can begin the process of filing the claim. They may ask you to provide the information that you collected, such as registration and license numbers and a quick summary of the incident.
Your insurance will point you towards the necessary claims forms that you need to fill out, which are usually on their website or app.
4. Find a Trusted Auto Repair Shop
You'll want to then seek out a trusted shop that can provide any necessary repairs to your vehicle. Your insurance company is not allowed to push you towards a particular shop, though they can make recommendations for who's in your area.
Before you choose your mechanic, there are a few questions to consider.
Is the mechanic ASE certified?
Do they offer a warranty on the repairs?
Is the body shop affiliated with AAA?
Have previous customers left positive reviews?
Are they upfront about what needs to be repaired?
Do they provide a comparable price estimate to other shops?
Keep in mind that you don't necessarily have to seek repairs if you'd rather keep the insurance cash in hand. However, if the damage was more than superficial you'll want to get the vehicle looked at before putting it back on the road.
5. Be Proactive About the Repair Process
Once you've landed on a shop that you'd like to do business with, you'll want to make an appointment before the statute of limitations runs out on your insurance claim. If you wait too long, the claim may become invalid.
Some insurance companies want a detailed list of all repairs, along with the estimated cost. It's important to communicate with both your insurance and the mechanic to ensure that this step is finalized and that both parties are ready to move forward.
Once repairs have begun, you can check in with the shop periodically for an estimated time of completion. After all, nobody likes to be without their car for an undue length of time.
When you go to pick up your car, do a thorough inspection to ensure everything is in working order. The mechanic should be able to walk you through the repairs that were done if you have any remaining questions.