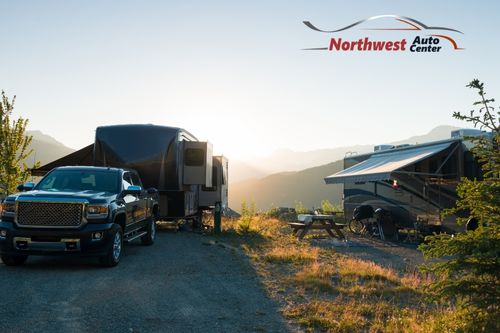 Today's diesel trucks are rugged and ready for any adventure you may throw at them. Keeping your diesel truck running efficiently means reliability and helps you ensure you're getting the most use out of it.
5 Ways Boost Performance on a Diesel Truck
Every driver's mileage may vary in terms of how they want to boost the performance of their truck. Depending on individualized needs and the day-to-day requirements of the your diesel truck, some owners may want to focus on fuel efficiency while others want more power and torque for carrying heavy cargo or towing extra weight.
1. Upgrade the Exhaust System
Upgrading the exhaust system on your diesel truck with an aftermarket modification can improve the power and torque, but can also boost the fuel economy and overall performance of the vehicle. An exhaust system with a larger capacity takes some strain off the engine and allows it to work more efficiently, especially when you add custom tuning.
2. Install Fuel Injectors
Installing aftermarket fuel injectors on your truck can improve the overall fuel efficiency and can even boost the horsepower and torque, depending on the brand and the adjustments made. Some aftermarket fuel injectors allow more fuel and a more efficient spray pattern to be delivered to the combustion chamber.
3. Schedule Engine Tune-Ups
Diesel engines are built for the long haul. For these workhorses to do their job well, owners should keep up with common maintenance such as replacing the engine oil, (with oil that's formulated for diesel engines) and changing the air and fuel filters when required. The owner's manual should indicate the proper schedule for maintenance to follow, although a mechanic can provide helpful insight as well that's tailored to how you use your vehicle.
4. Fuel Additives
If you plan to keep your diesel truck running for years to come, consider using fuel additives to keep the fuel system operating smoothly. Additives can protect the engine during the winter months via an anti-gel treatment and prevent excess moisture from causing corrosion. Which additives you choose to use will depend on your location and what type of elements your diesel truck is commonly operated in.
5. Utilize Diesel Tuners
Generally, diesel tuners are used on turbocharged trucks to unlock the full capacity of the vehicle. These small electronic devices allow the engine to be tuned according to the specifications of the driver. They can improve the torque and power of a diesel truck via customized engine settings. Installing a tuner is relatively inexpensive, yet it can pay off dividends in terms of diesel performance going forward.
** NOTE/WARNING ** You may not want to modify your truck while it's under the factory warranty or if it's under an extended warranty. Vehicle manufacturers and many extended warranty companies will not honor repairs if a vehicle has been modified.
Want to Modify Your Diesel Truck? Give Us a Call!
There are a variety of modifications you can make on your diesel truck to boost fuel efficiency and increase towing capacity. Depending on what you use your truck for on a day-to-day basis, we can help steer you in the right direction.