Fall. The season of pumpkins, pumpkin pie and pumpkin spiced lattes. But, it's also the season of change as leaves change and temperatures begin dropping. And that means it's time to get your car ready for a different season with these fall car care tips and tricks.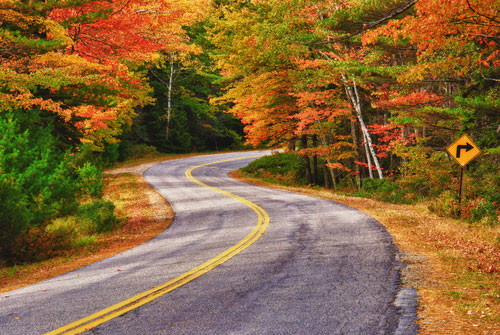 Fall Car Care Tips & Maintenance To-Dos
With Autumn comes a significant change in weather. Gone are the blue skies and hot temperatures. Instead, start expecting cold mornings and stormy weather.
So, what do you need to do to get your car ready for fall?
1. Check Your Tires
With almost guaranteed sunny weather gone, now is the time to check on the things that keep you connected with the road — your tires.
Just had full tires, but notice they look less inflated on the crisp fall mornings. Don't automatically assume you have a leak. As temperatures drop, so do your tire's psi. Stop by to top your tires off again as temperatures continue dropping into fall and winter.
2. Check the Lights
With fall comes increasing changes of darkness, earlier. You may even begin going to work in the dark and coming home in the dark depending on where you live.
Because of this change in daylight hours, checking your car lights is a crucial part of Fall car care.
One evening, take a walk around your vehicle. Check that your headlights are both working and bright. Have someone verify that your brake lights are in working order as well as your blinkers and fog lights.
3. Check Your Battery
One simple solution for finding this out before you are stranded and late for work? Stop by your local Auto Parts store where they will check your battery free of charge.
4. Crank the Heat
The worst time to find out your heater and defroster doesn't work? When you need them.
5. Replace the Wiper Blades
Summer wreaks havoc on your car's components — especially the dry heat of Texas. One of the first things to start cracking? Your wiper blades.
Just like the heater, don't wait until you need them only then finding out that they aren't working. When the fall rains hit, it's going to be hard to see (especially with the darker skies earlier thing) if you can't get the rain off your windshield.
And for those of you North of Texas, same goes for those early season snow storms.
Getting your car ready for Autumn doesn't have to be complicated or time-consuming. In fact, all of our Fall car care tips are all about planning ahead, setting you up for when you find yourself depending on your car's components this season.