No one thinks about auto theft until it's too late.
Maybe unexpected car trouble means you have to leave your vehicle parked in an unfamiliar part of town. Or, perhaps you're traveling to a new city.
You can't always tell whether a place is safe or not just by looking around.
Even in the Lone Star State, car theft and car break-ins exists. According to the National Highway Traffic Safety Administration, Texas ranks #2 in the list for most vehicles stolen in 2016.
The NHTSA report targets statistic on cars that are stolen. But, we want to keep you safe from other theft too. This means someone breaking into your car and stealing valuables.
There are several things that you can do to diminish your chances of being an auto theft victim and prevent car theft.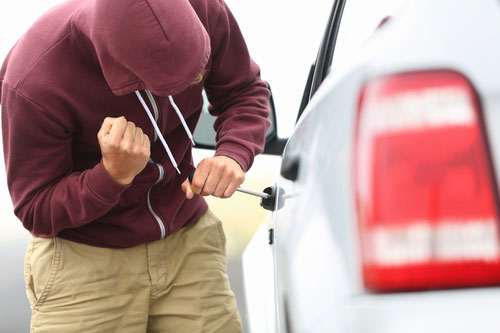 6 Tips to Prevent Car Theft
1. Lock Up Your Car
This one seems like a "no-brainer" but cars are left open and unattended more often than you think.
It's easy to convince yourself that it's okay to leave your car unlocked while pumping gas. After all, you are standing right next to your vehicle. However, reports say that it's still possible. There have been cases of someone sneaking into cars and stealing phones and wallets while the owner is standing right next to it.
Or, high temperatures may convince you to keep your car cool while it's parked. It might seem like a good idea to leave the windows cracked. If you need to, consider getting a sunshade for your windshield or park your car in a shady area.
Always be sure that your windows are rolled up, and shut your sunroof. This is a clear and easy way to keep some unknown stranger from getting into your car.
2. Park Your Vehicle Intelligently
Parking your car in a new place? Pay attention to your surroundings to tell if the area is safe or not.
If you don't see any other cars around, it may seem like you hit the jackpot. But, consider parking a street over if it seems safer. No other cars could mean the area is dangerous.
A well-lit area can be a safe bet because it will deter criminal activity. Thieves don't want to be spotted, so they will typically target areas that are dimly lit.
Park your car close to a building entrance. Better yet, park next to a security camera where your vehicle is obviously visible.
Parking garages are also considered safe places but stay aware of your surroundings. Potentially, these areas could be dangerous to your own personal safety. Again, parking close to a security camera or next to the attendant booth is a great idea.
3. Don't Keep Valuables Visible in Your Car
Leaving a wallet, purse, or phone visible in your car is an easy way to attract car thieves.
Consider this. If a thief is willing to smash a window to steal a wallet, they may go a step further and take the car entirely!
Ideally, it's a smart idea not to keep valuables in your car at all. However, this is not always possible. A trunk is an excellent place in case you don't have another choice
4. Don't Leave Your Car Running Unattended
It may be tempting to leave your car running while you run inside a convenience store to grab something. But, this is a straightforward way to get your car stolen.
Unlocked and running, the car is begging to be driven off by someone else. Always turn your car off and lock the car when leaving it unattended.
5. Know Where Your Keys Are
Stashing a spare key under your car may seem like a great way to prevent being locked out. However, it is also an easy way to have your car stolen.
Being a responsible key holder is essential. If you give someone your keys or give out a spare one, make sure to ask for them back.
6. Invest in Antitheft Devices
If you are on high alert about getting your car stolen, consider buying antitheft devices. Maybe you live in an area where car theft is a constant occurrence.
Nowadays, there are so many different options. This could include a wheel lock or an app that you download on your smartphone.
Most newer cars have an option for an antitheft tracker, so ask your car dealer about this when you invest in a new car.