Summer officially starts on June 21st this year, but the summer mood is already setting in!
While you're enjoying the Springtime weather, you might be thinking about all of the events that start in the summer. We're sure that you want to make the most of the season, so let's take a look at some Summer events in Houston you shouldn't miss out on. Everything from concerts, exhibitions, movies, and festivals – let's go!
2019 Summer Events in Houston, TX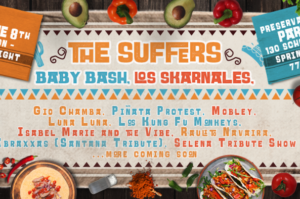 The Texas, Tacos, and Music Festival
When: Sunday, June 8, 2019
Where: 130 Spring School Road, Spring, TX 77373
Who doesn't like tacos, tequila, and music? This festival has live music stages (featuring the Los Lonely Boys, The Suffers and more), tequila tastings, live mariachi bands, artisan vendors, and Luche Libre wrestling. Hosted at Preservation Park in Spring, TX this festival has it all.
It goes from 12:00 pm to 12:00 am and has a $15 entrance fee.
Pride Houston Parade
When: Saturday, June 22, 2019
Where: Downtown Houston
Celebrate Houston's diversity and LGBTQ community at the Houston Pride event in downtown Houston. The Pride Parade is free and goes from 12:00 pm – 7:00 pm downtown.
AsiaFest 2019
When: Saturday, June 29, 2019
Where: 1370 Southmore Boulevard, Houston, Texas 77004
June is Asian Pacific American Heritage Month and Houston celebrates with AsiaFest. It's free to enter and offers visitors the chance to enjoy cultural demonstrations, like national performances, arts, and cuisines. You'll receive a festival passport at the door to explore the different cultures and foods at AsiaFest.
The festival is an indoor event in the Museum District and goes from 11:00 am to 5:00 pm.
Independence Day Fireworks Spectacular
When: Thursday, July 4, 2019
Where: 800 Town and Country Blvd, Houston, TX 77024
Looking for something to take the family to on the Fourth of July? Look no further than the Independence Day Fireworks Spectacular. Starting at 7:00 pm, you can see free live music (People's Choice Band) and a 15-minute firework display. There's also food for purchase if you and the kids get hungry!
This is definitely one of the Summer events in Houston you don't want to miss.
Apollo 11 50th Anniversary Celebration

When: Tuesday, July 16, 2019 – Wednesday, July 24, 2019
Where: 1601 NASA Pkwy, Houston, Texas, USA
The Houston Space Center is hosting a celebration of the 50th anniversary of the Apollo 11 launch, moon landing, and return to Earth.
This event includes some really great opportunities. Like, lunch with Apollo flight controllers, tours of the Apollo Mission Control Center, science labs, film screenings, and history presentations.
Prices are $69.95 for adults and $35.95 for children.
Houston Shakespeare Festival: Julius Caesar
When: Friday, August 2, 2019 – Saturday, August 10, 2019
Where: 6000 Hermann Park Drive, Houston, TX 77030
Join the Miller Outdoor Theatre in weeklong performances of the Shakespearean plays Julius Caesar As You Like It.
Shows happen nightly, starting at 8:15 pm. The Theatre is an outdoor venue, with ticketed covered seating and free lawn seating. For more information on tickets and plays, visit Miller Outdoor Theatre's website.
B.I.G. Salsa Festival
When: Thursday, August 29, 2019 – Sunday, September 1, 2019
Where: 5060 W Alabama St, Houston, TX 77056
This event is a four-day Latin dance festival in the dancing capital of Texas!
Every day there are dance lessons, live performances, and band concerts. Enjoy yourself dancing salsa into the early hours of the morning! Don't worry if you don't already know how to Latin dance! The lessons offered at this festival encompass all levels, including beginner.
The event starts on August 29th at 7:00 pm and ends on September 1st. Tickets range from $50 to $300 depending on your preference.
Jerk Fest
When: Saturday, September 14, 2019
Where: 2811 Travis St, Houston, TX 77006
Enter to compete in the annual Houston Jerk Fest, or join to enjoy food, arts & crafts, and food trucks.
The festival offers live music featuring reggae, soca, and zydeco musicians, along with local bands. This is a perfect opportunity to bring the whole family and a blanket for the lawn!
Tickets range from $15 – $50 and the event starts at Midtown Park at 2:00 pm.
Nigeria Cultural Parade
When: Saturday, September 28, 2019
Where: 1400 Clay Street, Downtown Houston
The Nigeria Cultural Parade is a free event (with your RSVP) in downtown Houston. This is the third year for the festival and is great to experience Nigerian culture through dance, performance, and food. The cuisine is provided by Wazobia African Market. The event will go on whether rain or shine!
Don't miss one of the premier cultural Summer events in Houston, TX.Throughout the summer, there a list of places and venues with reoccurring fun opportunities all summer long. Take a look at the short list to see what's happening!
Houston Museum of Science
Houston Zoo
Museum of Fine Arts
Free Neighborhood Concert Series at the Houston Symphony
Thursday Concerts at Discovery Green
Zumba in the Plaza
Chimney Rock Market
Houston, summer is upon us! Let's get out an celebrate. Join us at one of these Summer events in Houston, TX! Don't think your car will get you there? Contact us today to schedule a service or repair.