Many consumers are under the impression that dealers know best when it comes to repairs and general vehicle maintenance. However, you can often find better prices and friendlier service from independent auto shops.
It's key to remember that dealerships are in the business of selling cars, while independent shops are focused on providing quality service and being part of the community. They gain nothing by quoting you expensive repairs in the hopes of encouraging you to trade in your car.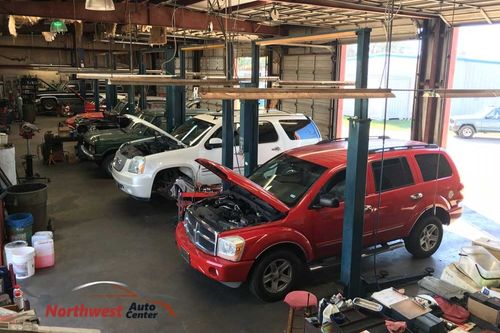 How Independent Auto Shops Help the Customer
Once you find an independent auto shop that you trust, you'll have a connection with the individuals that service your car. Depending on the size of the shop, you may even find that you're on a first-name basis with the employees.
When deciding between the pros and cons of independent auto shops versus the dealership, there are a few benefits that auto shops provide that dealers can't compete with.
Budget-Friendly Alternative Parts
While some people prefer only using OEM parts in their vehicles, there are less expensive alternatives that work just as well and sometimes even better. Aftermarket parts can be high-quality and dependable for many years.
Independent shops can order OEM parts as well and the customer will still pay less, as the service is charged at a higher rate at most dealerships. When you take your vehicle to the dealer, your only option is to go the OEM route and this can be disempowering to you, the vehicle owner.
Stronger Warranty Support
When going the aftermarket part route, you'll find that you generally receive a better warranty on it, (in many instances). This provides many drivers with increased peace of mind, especially if it's a lifetime warranty on certain repairs.
Speak to your local shop about warranty coverage and compare it to what you received from the dealer previously. This may just be a deciding factor for you when it comes to repairing your vehicle.
Personalized Service
Independent shops have a smaller team, whose aim is to become the customer's go-to source of vehicle maintenance and repairs. Stronger relationships can be built this way, which benefits both the shop and the vehicle owner.
Independent shops are all about selling services, as opposed to selling cars. A dealership has every reason to quote you expensive and sometimes unnecessary work that would push you towards putting a down payment on a new vehicle instead of repairing your current ride and keeping money in the bank.
The Downside of the Dealership
Many people assume that dealerships know the ins and outs of their vehicles better than anybody else. They did sell it to you, after all. However, dealerships rely on having a captive audience by selling expensive extended warranties and packages so that customers continue returning again and again.
It's often more expensive to get a repair done at the dealer, as there is more overhead at such a large establishment. The cost of parts and labor is increased due to this and the customer is the one who pays for it.
Many people walk into a dealership and instantly feel that their best interests aren't being considered. Sales people have loyalty to the dealer and the manufacturers, sometimes at the expense of the customer.
Dealerships can sometimes be less convenient, as there are fewer options compared to the local shops in any given city. If you have to drive 30-45 minutes to your nearest dealership, this can become an inconvenience.
Looking for a Houston Auto Shop? Give Us a Chance!
If your vehicle is out from under the factory warranty and you're looking to save some money by using an independent auto repair shop, Northwest Auto Center of Houston wants to be your choice. You can reach us at (281) 894-8880. We strive to serve our local community as a trustworthy source of vehicle repairs and maintenance. By the way, we also work with the vast majority of extended warranty companies, so there's no need to have to go back to a dealer for extended warranty repairs!!