The new school year means carpooling, after-school activities, and play dates. With all the focus on the kids in this new routine, it can be easy to forget about the most helpful tool you have at this time–your vehicle. The good news is that you can get your car back into tip-top shape with a few auto maintenance and car care tips.
We know that you've been shopping for school supplies and clothes in preparation for the new school year! Why not focus a little of that attention on your car? It doesn't take much work and will make your life so much easier. Let's take a look!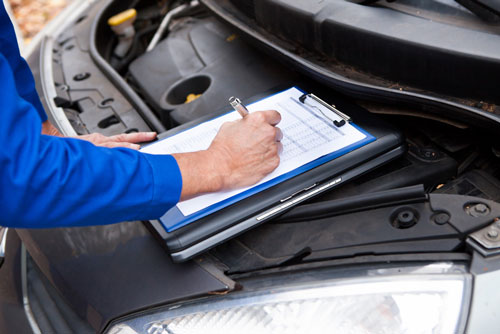 8 Back-To-School Auto Maintenance Tips
1) Give Your Car a Good Scrub
All of our cars' exteriors can use a little tender lovin' care. You may think that taking your vehicle to the car wash is for aesthetics, but the truth is that it can keep your car healthy.
Debris, dust, and rust can damage a vehicle over time. The best way to prevent this is a trip through the car wash or a good ol' fashioned driveway spray down.
When you're spending a lot of time in the car, it can be easy to lose track of how clean the back seats are. Make things easier on yourself by making clean-up everyone's job, after the driver isn't the one in the back seat.
2) Check Your Tires
Check your tire pressure to make sure that they are good to go for the ride to and from school. You don't want them to be over-inflated, and you don't want them to go without enough tire pressure. Don't forget to check the air pressure in the spare too. You never know when you'll need it and sitting on the side of the road is a wrong time to realize it's flat.
Take a peek at your tire tread while you're at it. You may notice that they're getting low, which means you'll need to replace them soon. Make sure to rotate your tires every so often to prolong the life of your tires.
3) Change Your Oil
The chances are that you put a lot of miles on your car during the summer — and that isn't going to change with after-school activities back in session. Take a look to verify you haven't missed a service. Changing your oil goes beyond just back-to-school auto maintenance, this is a service you should be keeping up on all year long.
4) Organize Your Routine
Part of a new routine means integrating new habits. Maybe Monday you need to pack the music bag for piano lessons, Wednesday the soccer cleats, and Friday a sleepover bag. Organizing your car's trunk could save you that extra trip home for something you forgot.
Using organization cubbies can help you keep the car clutter-free and your day running smoothly.
It also couldn't hurt to keep the critical dates for schools in the Houston school district handy somewhere accessible.
5) Inspect Your Windshield
Windshields get dirty inside and out. Don't forget to wipe yours down to make sure your able to see the road clearly with no problems! If you have a crack that covers your line of vision, it's time to get the glass replaced or repaired.
Inspect your wiper blades too. If it hasn't rained in a while, you may not know how your wipers are performing. Take a look before you're stuck in a storm with low visibility because of an old windshield wiper.
While you're at it, check the levels of your wiper fluid. It's easy to refill and can be helpful in case you park under a particularly sappy tree or drive under a low-flying flock of birds.
6) Restock the First Aid Kit
When you're on the go, you want to make sure that you're well prepared for emergencies, small and big. Take a look at your first aid kit. Replace missing items and others that may have expired.
Don't forget to update the emergency contact information in the kit too!
7) Inspect the Brakes
The brakes on your car are essential to the safety of you and other people. If you notice your brakes are making screeching or grinding noises when you apply them, it may be time to replace them.
Before you hit the carpool lane, make sure that your brakes are functioning correctly!
8) Review the Safety Rules
Going back to school means that it's time to review the safety rules with your kids. This should include rules for buckling up, driving distractions, and crosswalk safety. Remember to go over pedestrian safety rules like looking both ways before crossing the street and sticking to sidewalks.
You want everyone to be safe inside and outside of the car!